In this help topic you will understand how to do various Settings related to Online Payroll application (PF, ESI, PT, Bonus, Gratuity, TDS, NPS)
Payroll Settings
In this window, you will be selecting which statutory/services features are required in your Organisation.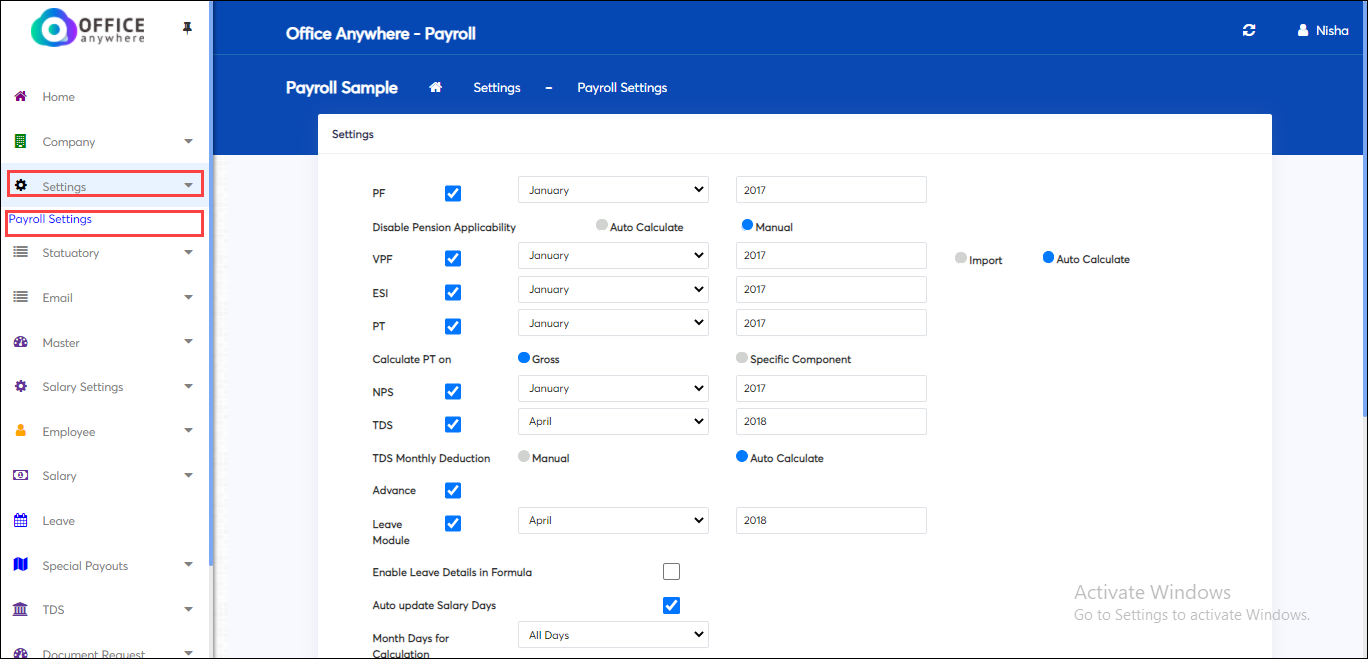 Statutory Setting: Under Statutory Settings, you can configure, Statutory Rates for the different period. Example, During Covid Season in 2020 PF Rate was Changed from 12% to 10% only for a few months.
Email Setting: You can send Communication to Employees from Payroll Application itself. You can send Payslips, Offer letters, TDS reports etc. to all your Employees. If you want to send emails from the Payroll System, you need to Configure Email Server and Email Accounts Details in Email Setting.
Payroll Setting
You can configure which statutory/services of the application are required for Payroll Processing in your Organisation
To enable PF:
Check the checkbox and select Month and Year from which it is applicable.
Import option allows you to import respective VPF details from excel at once.
Auto-calculate option computes EPS automatically.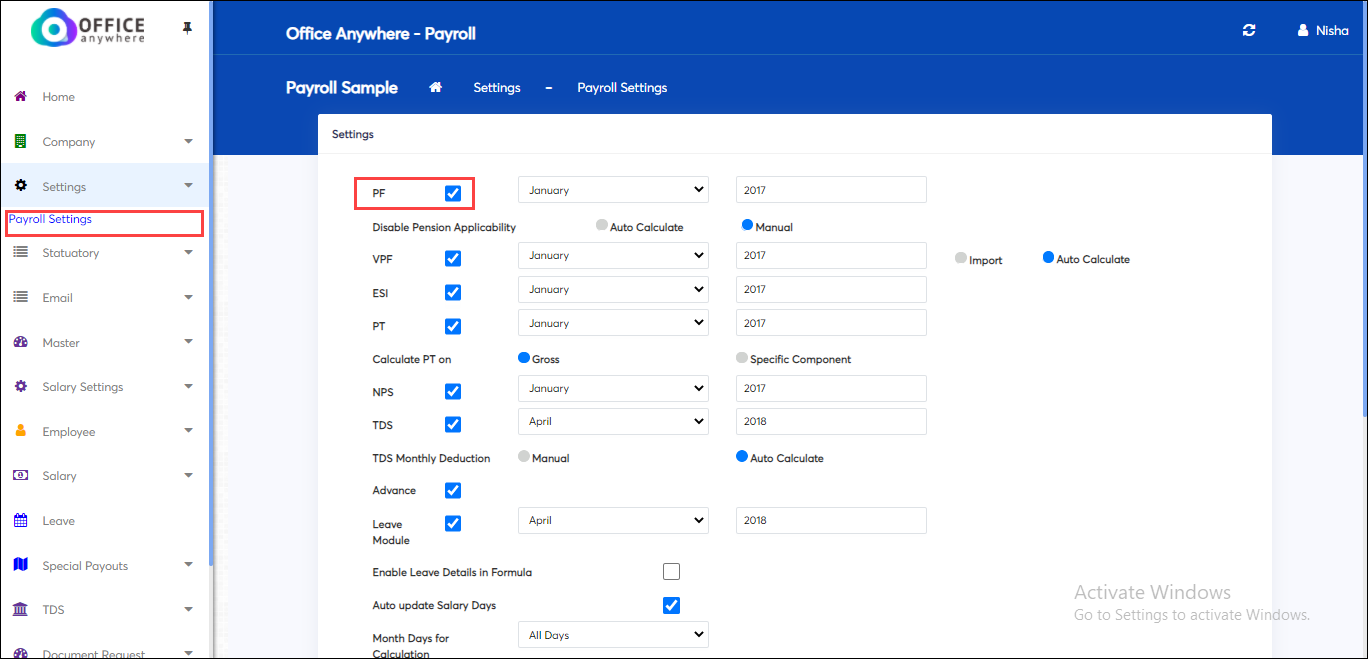 Similarly, you can configure all other statutory Components.
Advance
Application stores details of the Advance Amount, which will be reflected in the Monthly salary when recovered.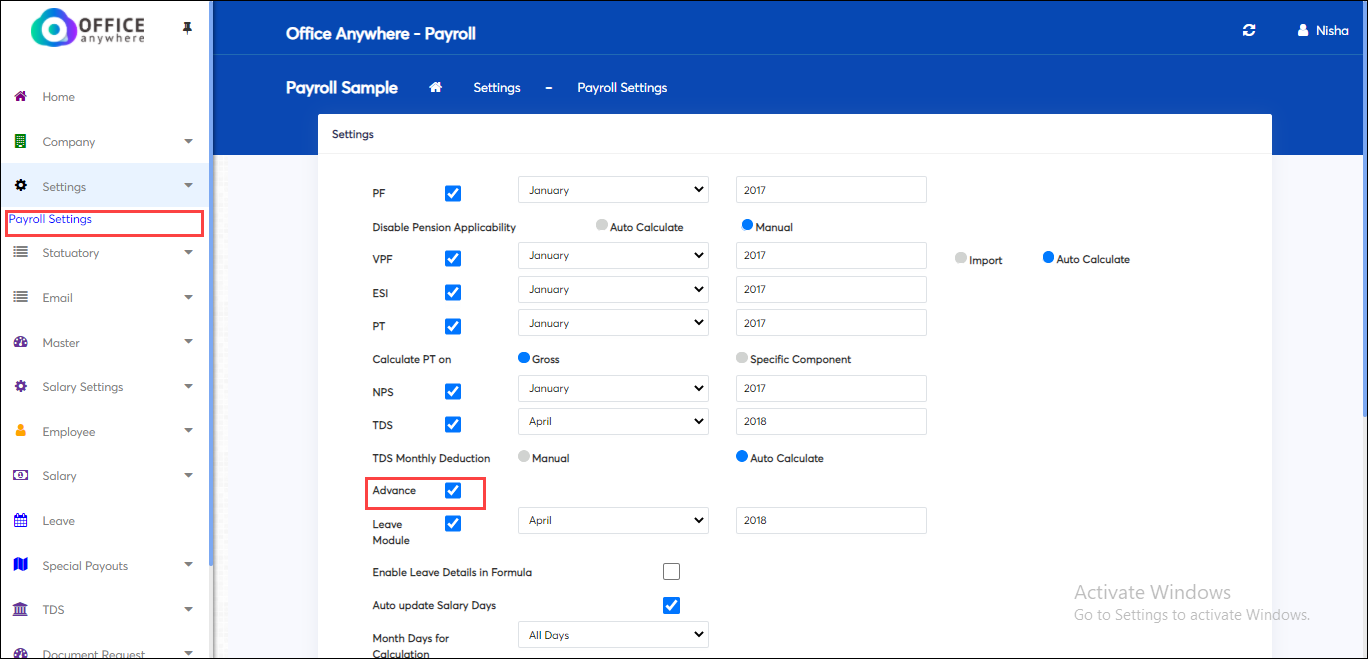 Leave Module
Leave Management Module is helpful to track Leaves applied by the employees.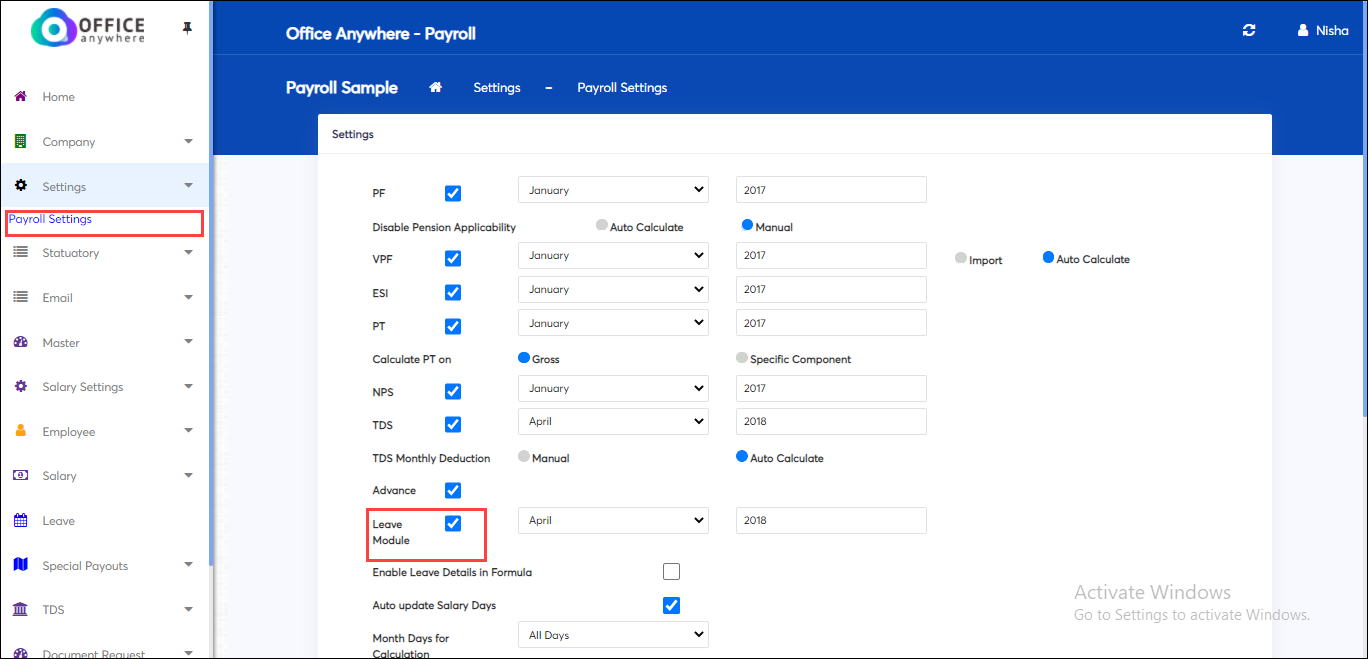 Month Days for Calculation
While processing salary, working days considered will differ in a few organisations. There are two options available here:
Custom days : Working days to be entered for every month.
For instance: In a month of 30 days if there are 4 Sundays, then working days will be 26. The application will calculate for 26 days.
All days : Complete month days will be considered for salary processing.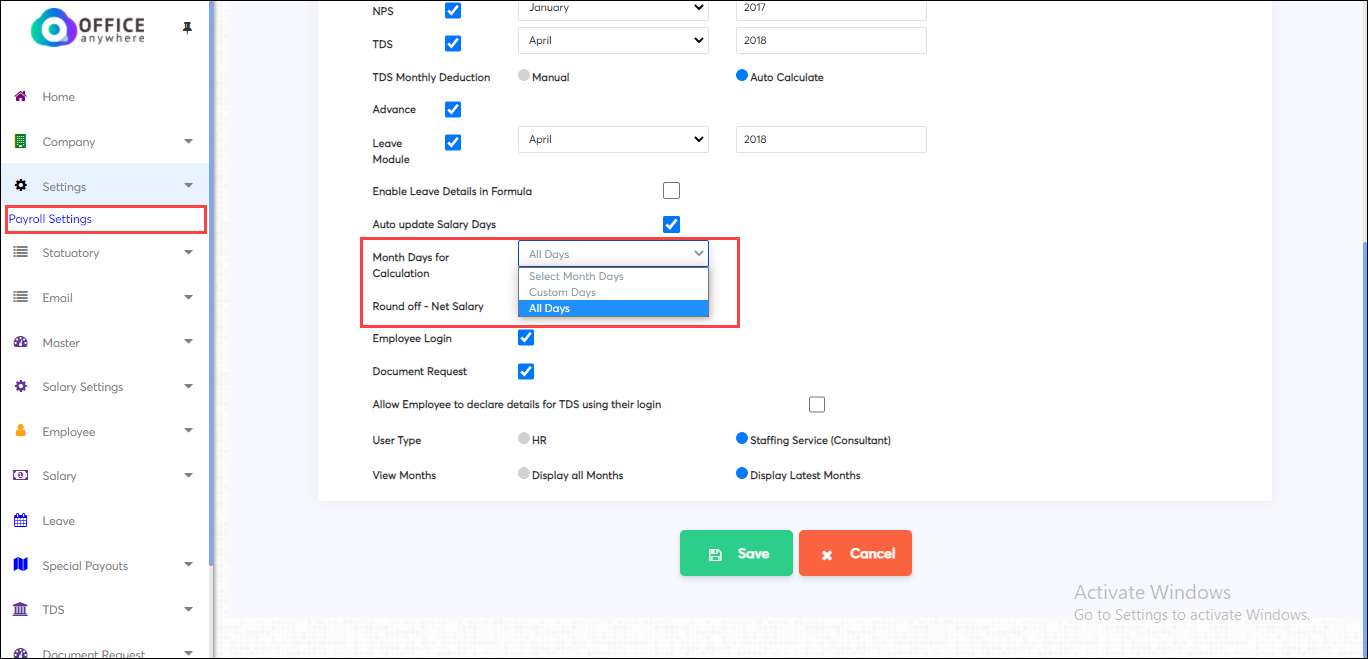 Round off
In the Monthly salary, final salary will be computed and displayed. If you want to round off the calculated value, you can configure the same.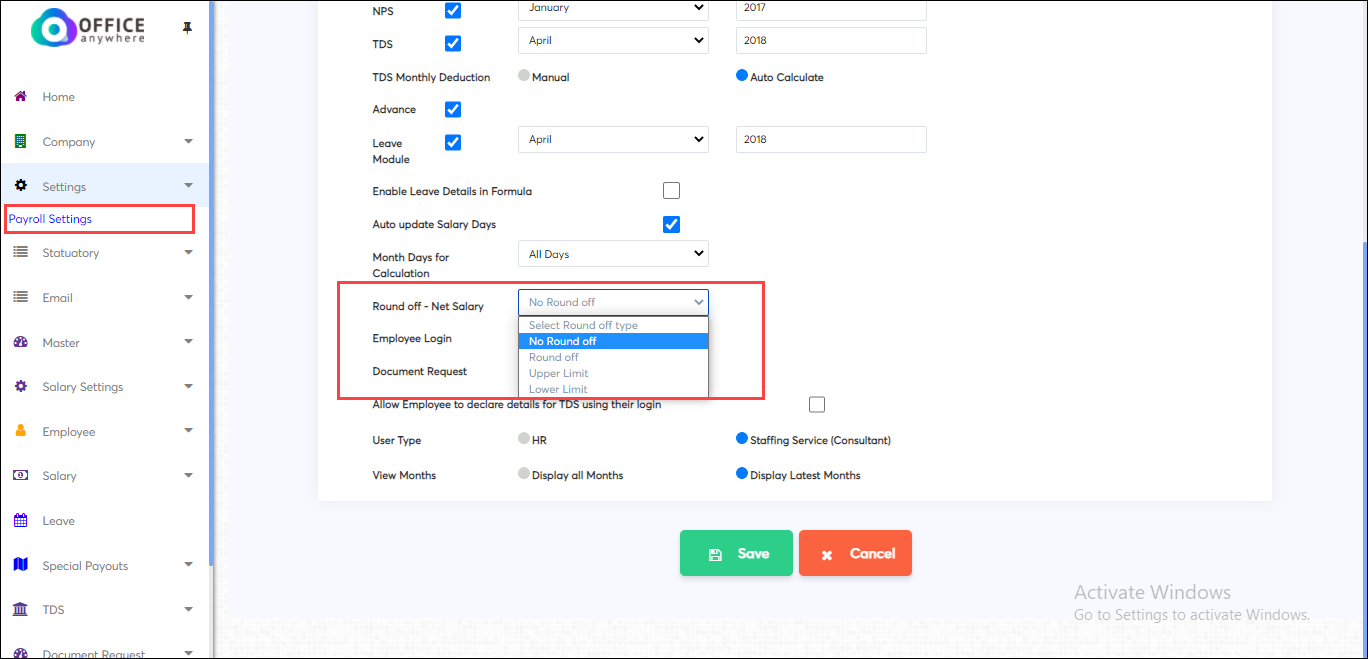 Employee Login
If individual employees need to be given access to the software, then enable this option. User can log in to the application with his credentials and access his data.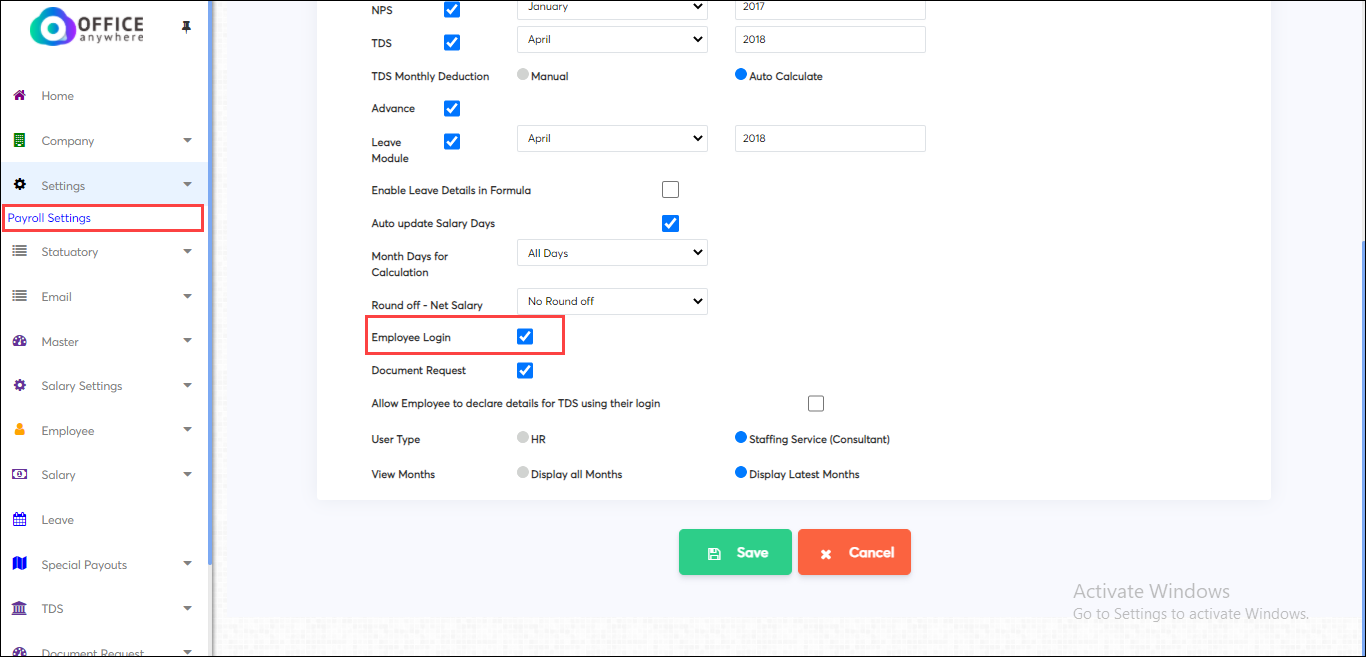 Document Request
If this feature is enabled, the employee can log in and upload the requested documents. HR/Admin can approve/reject the documents uploaded by the employees.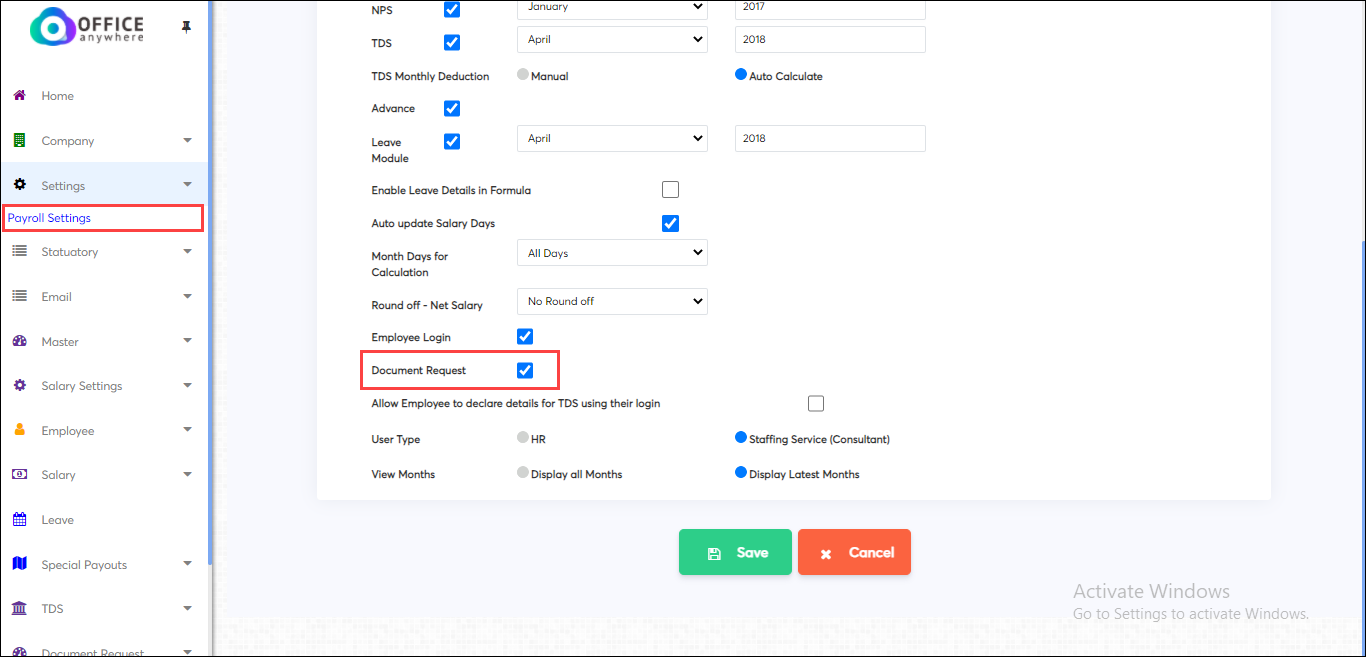 Allow the employee to declare details for TDS using their login
Employees can submit their TDS declaration details. HR/Admin can approve/reject the TDS declaration details uploaded by the employees.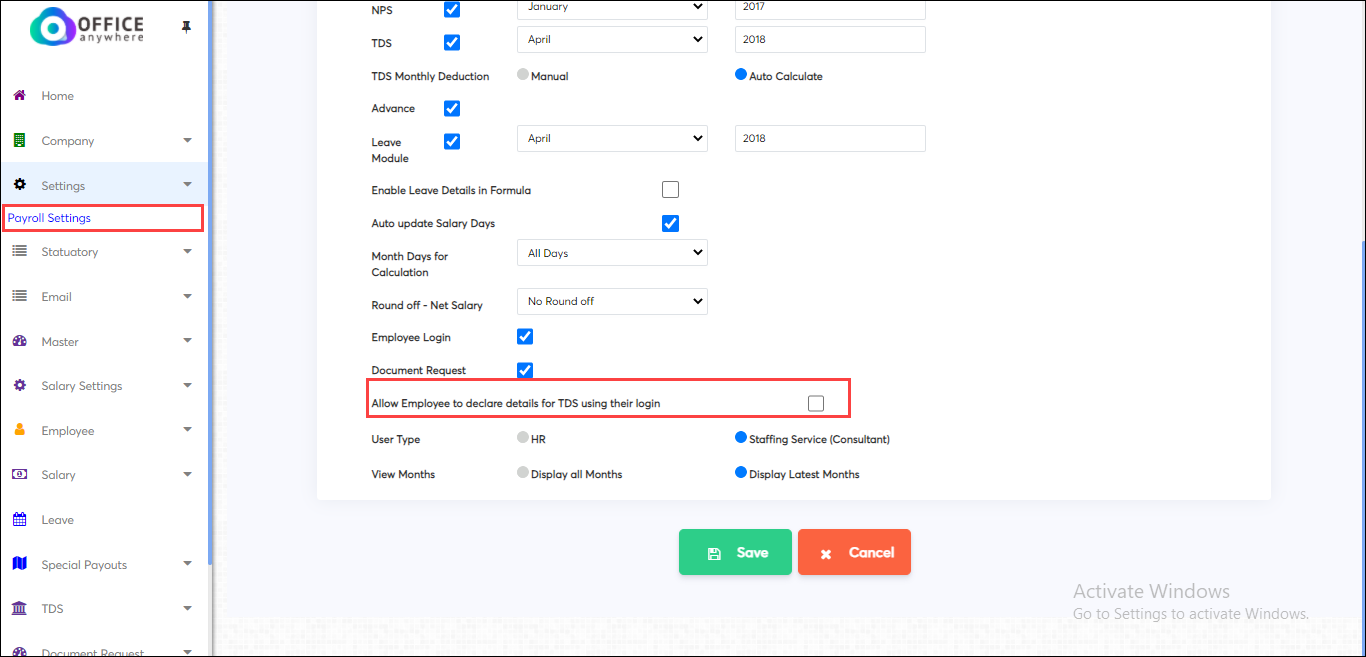 View Months
In the Payroll application, salary details will be processed on the months created, all created months will be displayed in the Month dropdown across the application.
There are two options here:
Display all Months: All months created will be displayed across the application.
Display Latest Months: Across the application, Last 4 months will be listed in dropdowns. Usually, you will be referring to the last few months while working on payroll application.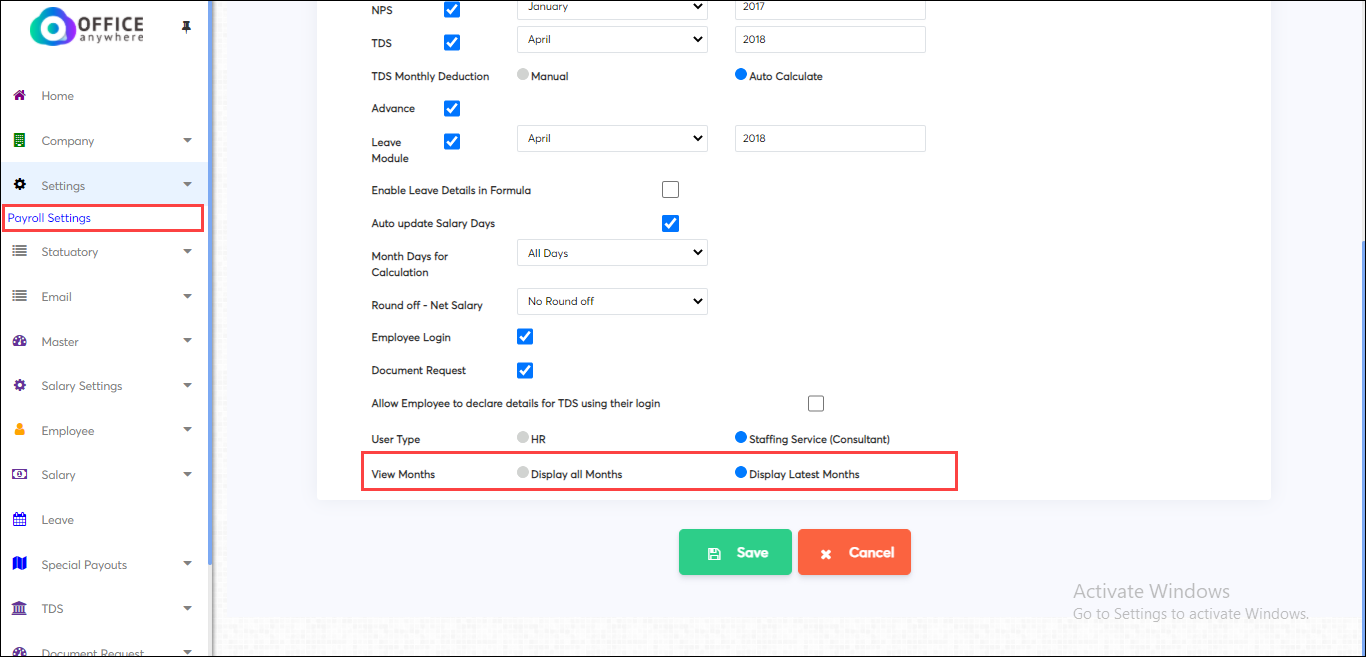 User Type
Firms and Companies can use this application. If you are a Company or Firm, then HR/Admin will be using this application and Set HR as your preference. Consultants who help companies manage their payroll effectively use this application. If you are a Staffing Service or a Consultant, Select the other option. Some of the features in the application, including Reports, will change depending on this option setting.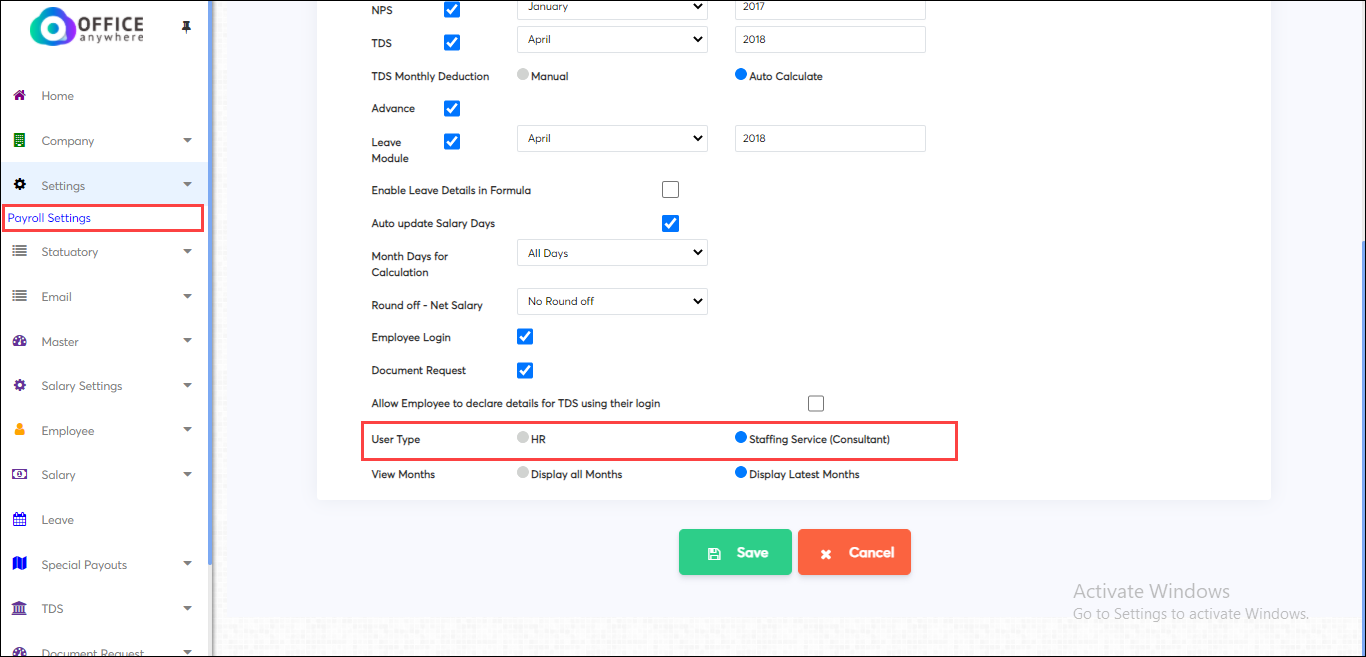 Once the settings are enabled, we have to define the Statutory rates: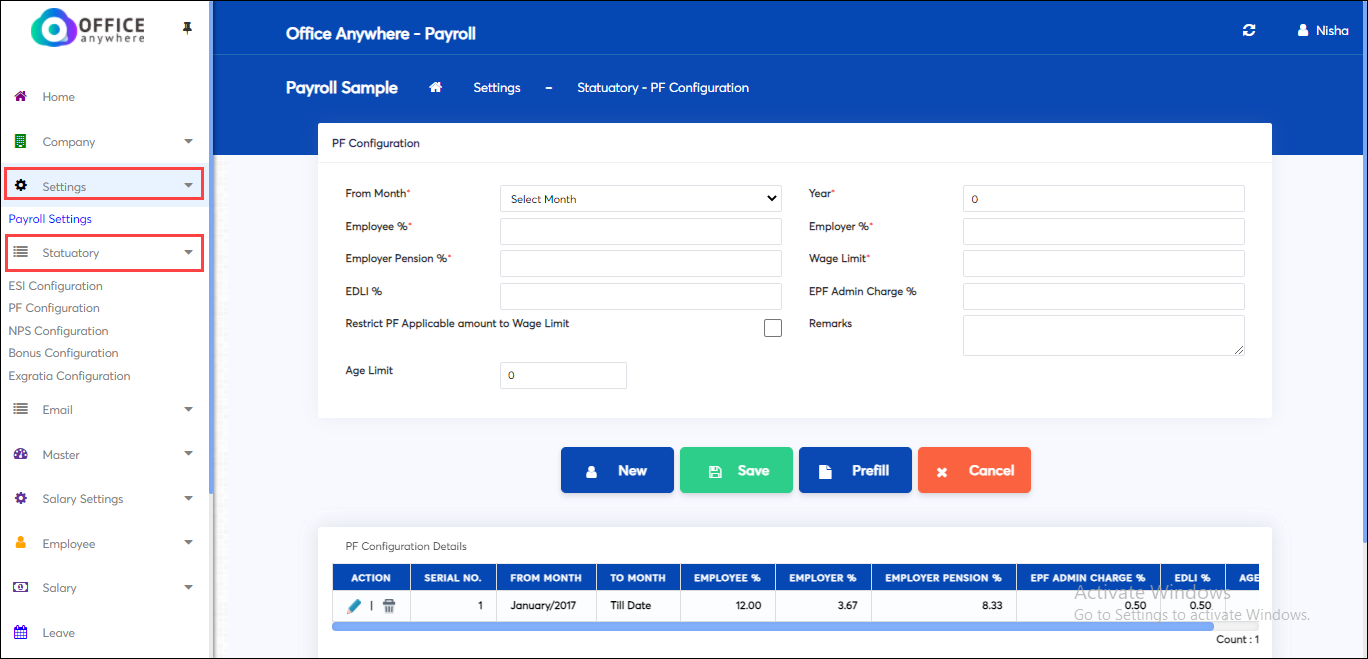 Click on the Settings menu, click on Statutory, select PF Configuration in the sub-menu.
In the screen that opens, select the Month and Year.
Employee and Employer contribution rates to be entered along with other details.
You can click on the prefill button to auto-populate the latest rates.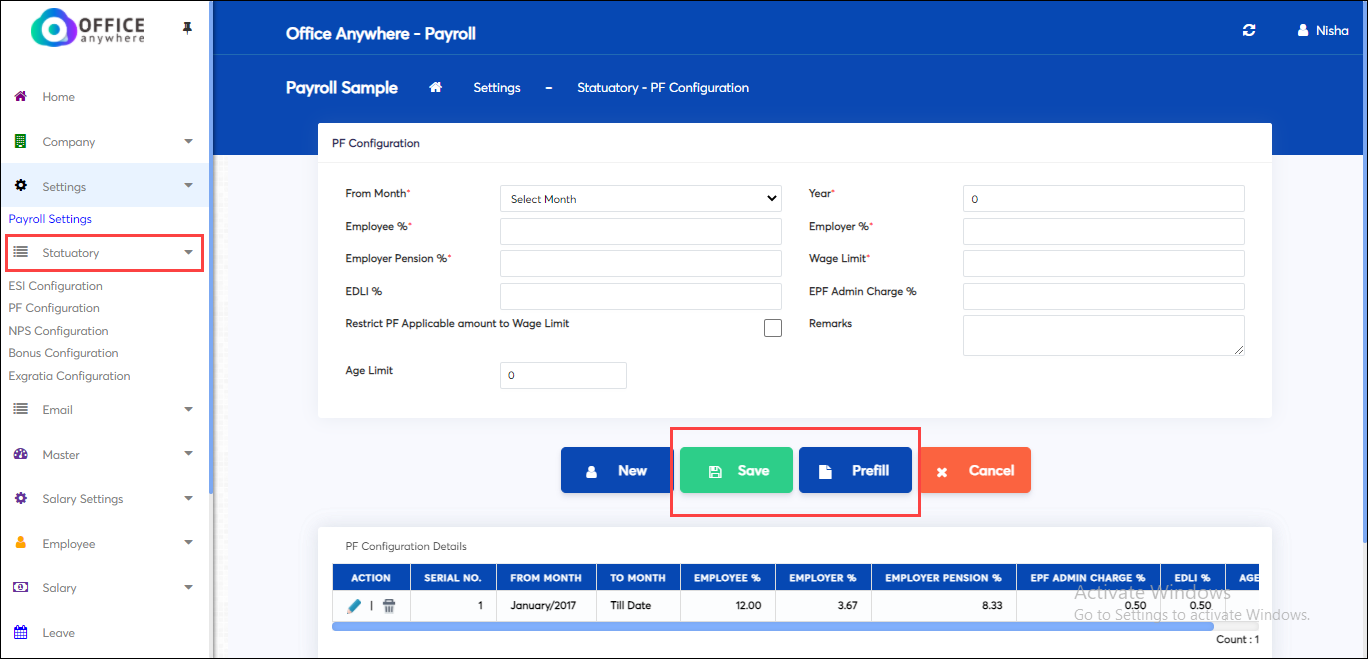 Click on Save button to save details.
ESI, NPS, Bonus & Ex-gratia configurations can follow a similar procedure.