Payroll
Complete Payroll Solution with PF, ESI, PT, TDS, and More.
Intuitive & comprehensive online payroll processing application with compliance to Indian statutory guidelines. Includes Leave Management and Tax Planning.
Payroll Management (ESI, PF, TDS, PT) Software India
Payroll is an easy to use application by ERachana Technologies that automates payroll processing and salary calculation considering statutory provisions defined by India. This Simple Payroll Management Software has a user-friendly platform with which you can easily do salary configurations with statutory compliances, like ESI, PF, or TDS, and calculate NPS, and maintain the records of salary paid, salary components and other details. The best part of this application is that you can define the salary completely according to the nature of your organisation. Whether yours is a small business or large, you can use the payroll software for automatic salary calculation, with ESI, PF and more.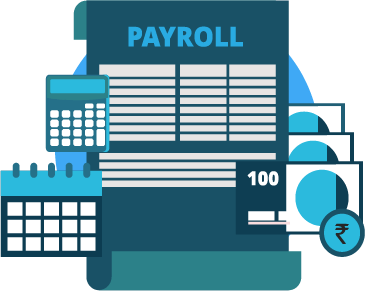 How Payroll Software Works?
To use this easy payroll software, just add statutory components applicable to your company (like PF, ESI, PT), other deductions and earnings, and set the month from which they apply. Configure the salary components for each employee. You can change it periodically. As per the statutory compliances, set the salary structure of the employees according to payroll cycles and allowance heads based on your company's payroll policy. To generate Monthly Salary, add Leave Days and Working Days. You can do Automatic Salary Calculation for Additional Components like Bonus, Gratuity, Leave Encashment etc. Generate Pay Slip for individual employees and Salary Sheet for all employees. With the pre-configuration, you can run payroll easily, during every wage cycle for all employees, by just click of a button! This Statutory Payroll Software is fully compliant with statutory policies like PF, PT, TDS, ESI among various others. Not only that, you can also add your own allowance heads whenever they are applied in your company. Even Variable components can be easily accommodated in the payroll processing. You can update the Salary Configuration Periodically, with salary revisions and apply them for the subsequent pay cycle. Professional Tax calculation is available for all Indian States. At the end of every wage period, smart looking payslips can also be generated, along with various reports.
Try Before you Buy!
Learn how to use the payroll software with the help of payroll process demo videos provided, and the Help Pages. Get Automatic Payroll Processing done within few clicks and see how easy it is to do automatic salary calculation So just try ERachana's Payroll to make Automatic Payroll Processing, a smooth and positive experience!








✔ Completely Configurable Components
Whatever payroll structure your company has, you can configure the application to suit that. You can easily define a highly customizable salary structure specific to your industry standards, company specifications, or requirements and employee category.
✔ Unlimited of Salary components
Salary Components may vary depending upon need and business structure. You can add unlimited salary components as per your requirement, to create a salary structure that suits your business, statutory norms and state regulations. The salary components can be standard or highly specific to your industry.
✔ Statutory Compliance
Our Statutory Payroll Software is fully compliant with statutory policies like PF, ESI among various others. All statutory deductions for PF, ESI, Professional tax are automatically calculated in our payroll system as per the latest laws and amendments. The payroll management system provides you with these features along with all required and customized reports:
- Automatic PF calculations and validated ECR generation (Notepad text File) in a compatible format, ready to upload in EPFO portal.
- Automatic ESI computations, and Excel Template for generating Payment Challans
- PT compliant with any Indian States selected.
- Bonus, Gratuity and Leave Encashment calculations
✔Benefits and Compensation Management
Since you can add your components, and fully configure the payroll software to suit your company needs, benefits and components management becomes very easy. The software allows efficient processing for one-time benefits like gratuity and leave-encashment and periodic benefit calculations like for bonus.
✔Deductions Management
Make accurate deductions with efficient deductions management in the Easy Payroll Software. For Deductions like ESI and PF, you can easily upload the deduction details and make payment to the respective organisations like EPFO. For Advance, you can generate a suitable recovery plan.
✔ Salary Formula Configuration
Create your own salary formula by selecting the desired components and their values. You can set components applicable for Variable or Fixed pay, according to your company salary structure. You can include deductions and earnings and generate your own formulae.
✔Leave Management
Manage Salaries efficiently with the inter linked Leave Management Feature in Payroll. With this simple solution, you can easily track and maintain a record of the number of leaves and the type of leave availed by the staff. This, in turn, makes the Payroll process smoother.
✔Payslip generation
You can generate individual pay slips for employees at the end of each pay period. These beautiful and professional looking pay slips can also be generated as pdf documents, suitable to be emailed, or printed.
✔ Reports
With Payroll Processing Software, you can generate mandatory reports like individual employee payslip and Comprehensive Salary Sheet for all employees. You can also generate various other reports for analysis based on your organisation's requirements.
✔ Custom Solutions
This software comes with most of the requirements of Indian Payroll System. However, in case if you have specific requirements, we will customise the software for you accordingly.