Website Audit Services at Economical Cost
The Website Audit Service can help you increase the quality of your web site and also considerably improve the number of visitors visiting your website.
Do you have already having a web site and it does not have enough traction?
The Website Audit Service can help you increase the quality of your web site and also considerably improve the number of visitors visiting your website. Although a lot of time and effort is spent on making a website live, why your site is not generating the traffic you think it should? A website audit is an answer to this. The website audit is a full analysis of everything related to your website including the level of search engine visibility. A complete and detailed audit will give you a deeper understanding of your website's performance.
Why does your website need an Audit?
There are 2 main purposes of doing a Website Audit
Impression (Read it as Branding)– After all, a website is developed for building the brand and disseminating the required information. If broken links are found or if there are spelling or grammar mistakes in the content, what impression are you leaving?
Increase Website Traffic- Over the last year, we saw incredible changes from the search engines in how they compute the search results when someone does a search. There are hundreds of factors used by the search engines to determine how your site will be returned in the results.
Some of the more recent additions to these factors include:
1. Site speed
2. Responsiveness
3. Content
4. Authority
How will we do it?
Our processes include using available online tools to audit your website.
1. Research - We understand the basics of your business, your website goals and align our auditing as per your requirement
2. Develop Strategy - We create a personalized plan for finding issues with your current website
3. Execute Strategy - We implement and monitor the campaign, continually tweaking it and get you good audit results.
What will be Audited?
Features
Never Miss a Business Opportunity with Systematic Website Audit Management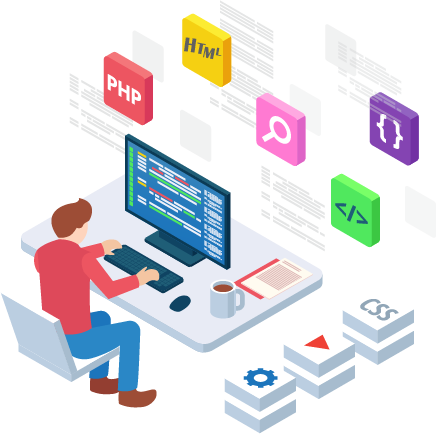 Broken Links
Check broken links on the website pages to ensure that they resolve to a page. Having broken links on your website can affect your search engine rankings as well as experience to users, it is a good idea to check and fix.

Devise-friendliness (Responsive)
With the staggering growth of mobile devices like smartphones and tablets and mobile device usage, it is now essential that your business website is mobile-friendly so that your clients and prospects can easily browse and find information, regardless of what type of device (phone, tablet, desktop, etc.) they are using.

Site speed
There are multiple technologies to develop website now. If the right technologies are not used, you may end up having a slow loading website. If the site does not load in a reasonable time, it is most likely that a prospective visitor may divert his attention and visit some other site.

Content Quality
During our Experience of Website development, we found that many web pages have eye-catching spelling and grammar mistakes. Having lower quality content always contributes to negative brand image.

Search Engine Optimization Basics
We let you know where your website stands (Ranking) and what is wrong.

Social Media
Is your organisation utilising Social Media effectively?

Video
Video is the most effective way to communicate about your product and services. Is your video up to the mark?
How Audit Report will help You?
There will be 2 categories of suggestions, one related to working on the website and other related to Search Engine Optimisation.
Most of the issues related to the working of the website can be fixed by the current web developer quickly. Some improvements such as spelling or grammar checks take time depending upon the quantity of content you have.
For improvements related to Search Engine Optimisation, as a business owner, you have to take a decision of whether you need to take it forward or not. SEO implementation can be done at surface level or in-depth. For the in-depth implementation of Search Engine Optimisation, we can further help.
The audit reports we submit will also consist of remedies for most of the issues.
Who should opt for SEO Audit Services?
Businesses will have a website for 2 reasons
Put an attractive Website as Company Profile to impress those who already know your business. For such businesses, SEO Audit will not help much. They can just go with a regular Website Audit.
Companies which offer products or services and who want to get more business through digital marketing. For such businesses, SEO Audit is a must.
How our services are different from the sites which give free Audit Reports?
Most of the Free Audit Reports indicate what is wrong with your web site. But most of the time, you will not come to know how to address those issues. That is the difference, you want to know what is wrong or you want to fix those things which are wrong?