Bug Tracker Help - Super Admin User
Step 1: User Registration
A Super Admin can Register to the application as shown below
The following are the functions performed by the Super Admin User.
1. Creates Users
2. Edit User Details
3. Role Mapping
4. Create/Edit/Delete Projects and Masters
5. Purchasing different plans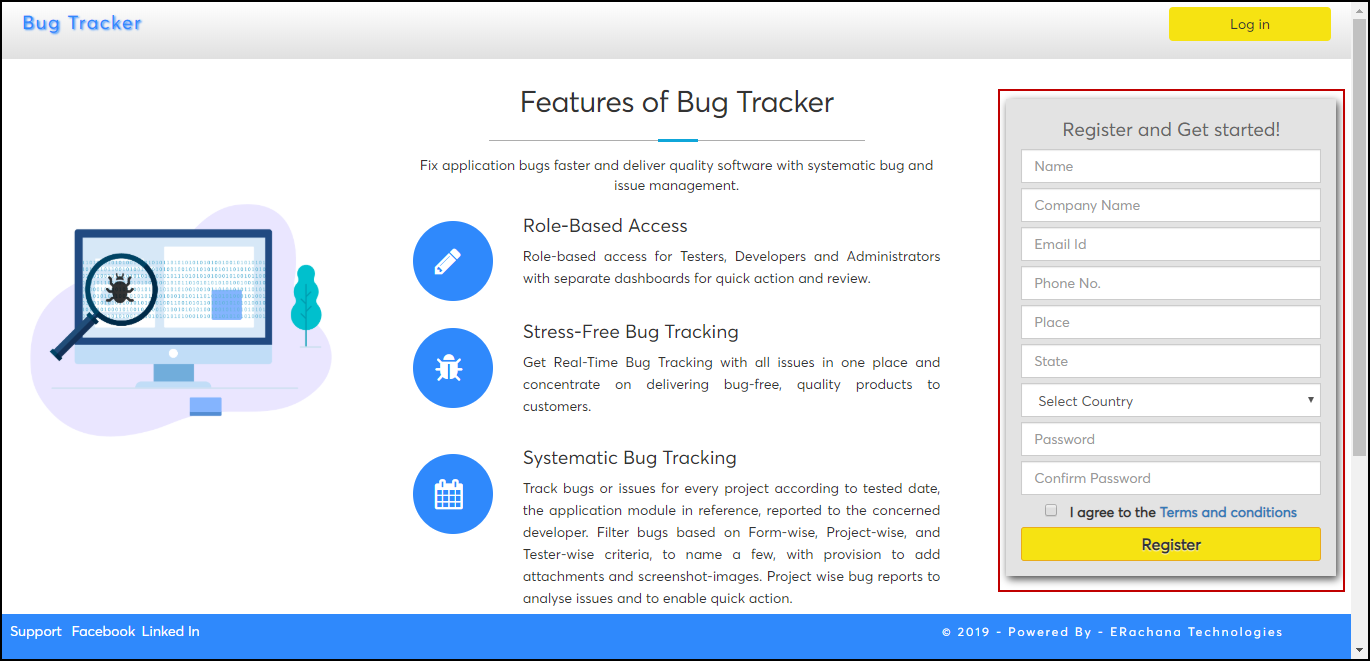 Step 2: User Login
Once the registration is completed, a confirmation email will be sent, click on the link to confirm, you will be redirected to the Login page of the bug tracker application.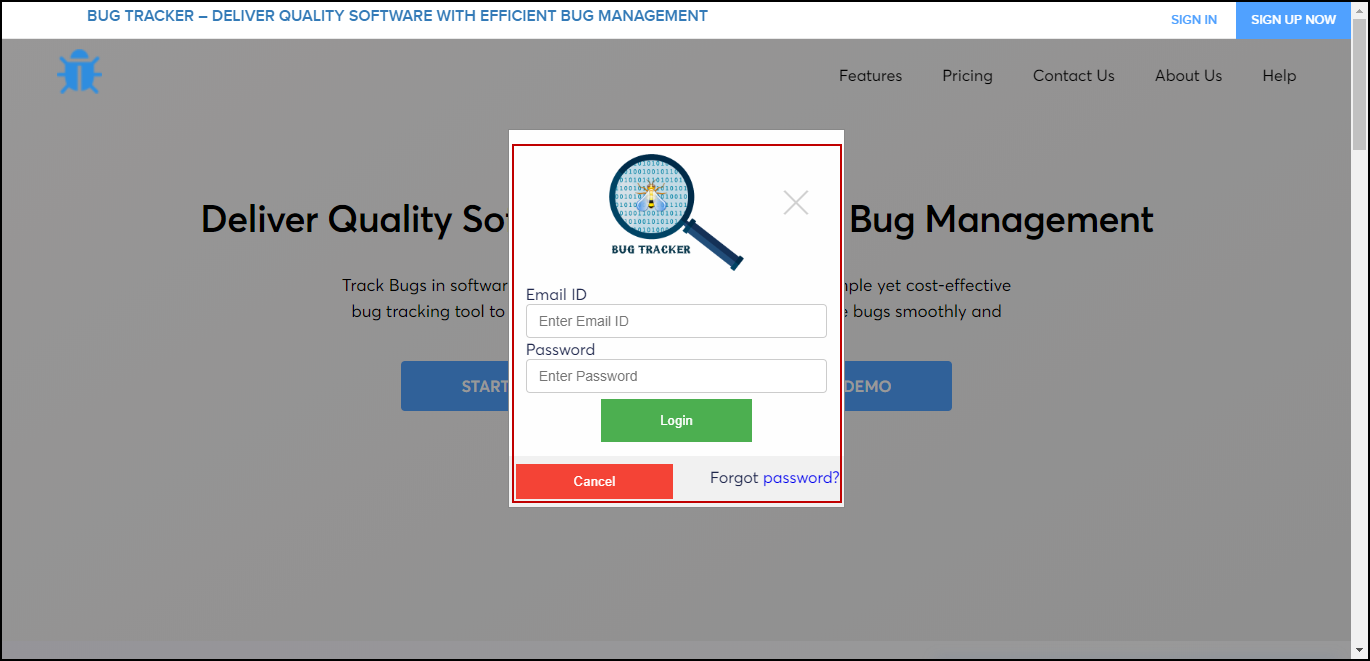 Step 3: Dashboard
Super Admin has the provision to create other Users and assign Roles to them. On the Successful login, the following dashboard is seen.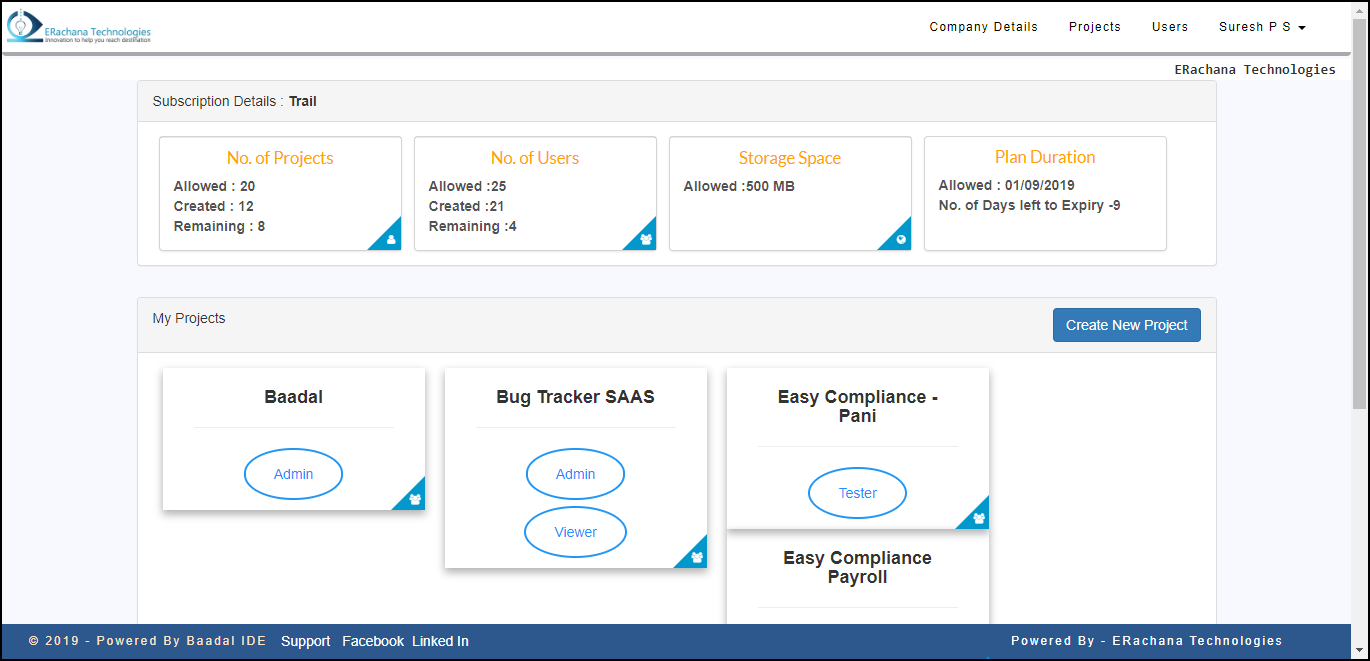 New Project Creation
When new registration is done, on the successful login. Few master information needs to be stored for one time like Company details, User creation as shown below.
Step 4: Create Company Details
To create Company details, click on Company details in the menu ribbon as shown below.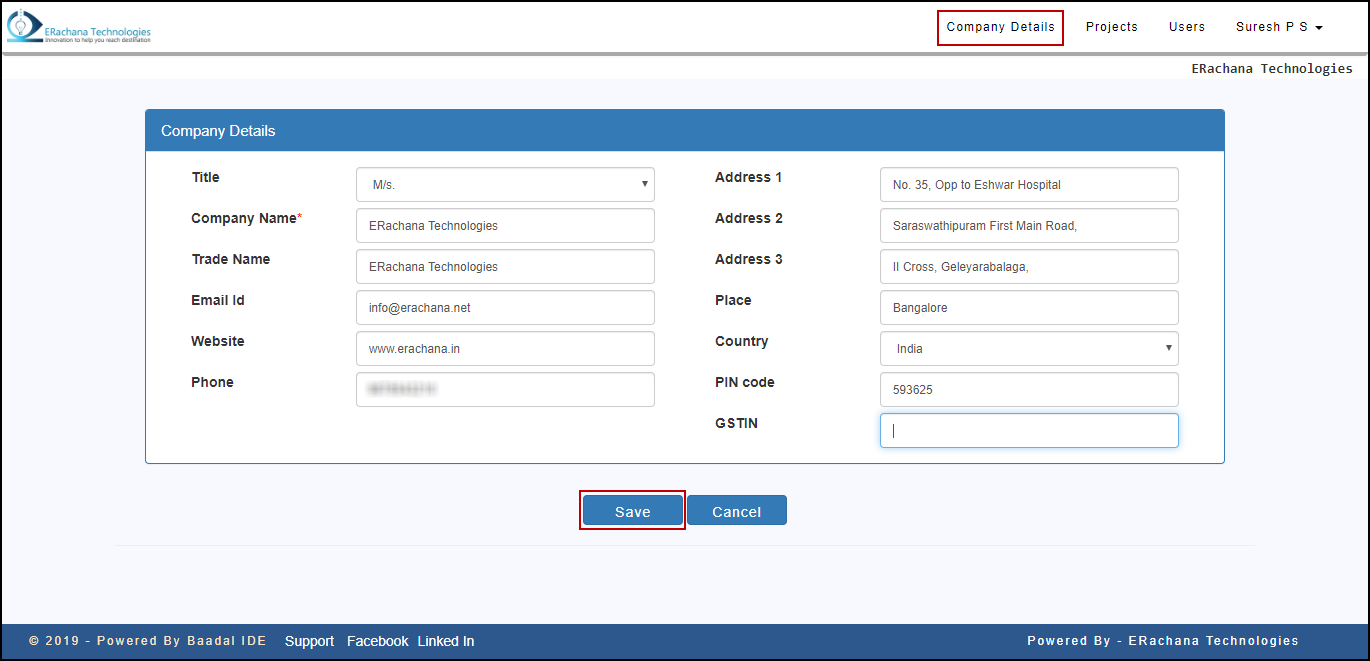 On the page that opens, fill the details of the fields which are mandatory. Click Save.
Step 5: User Creation
To create Users, click on the Users in the menu ribbon. In the window that opens, enter User name, Email ID and click on Save to save details. If a User needs to be made as Admin then you have to check the Is Creator checkbox and save. By default, the super admin user can view Plans available. This option can be given to other users by checking the checkbox Is Buyer.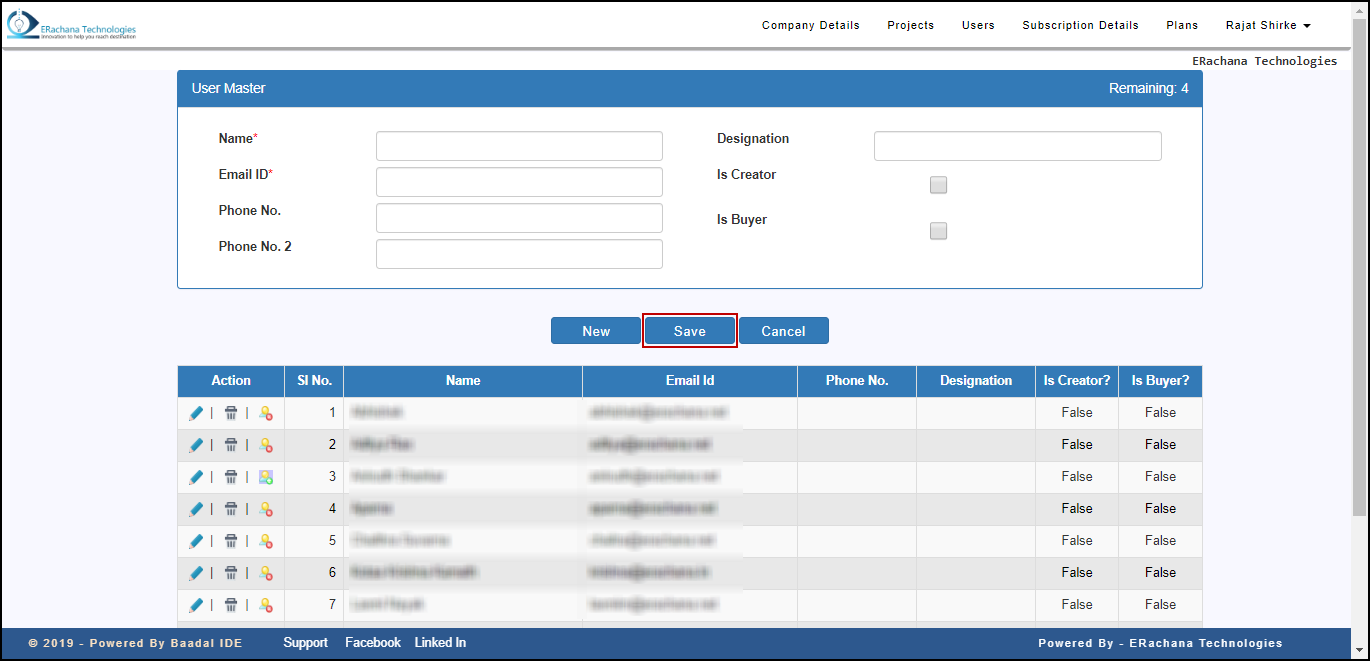 Step 6: Project Creation
To create a New Project, click on the New Project button as shown below.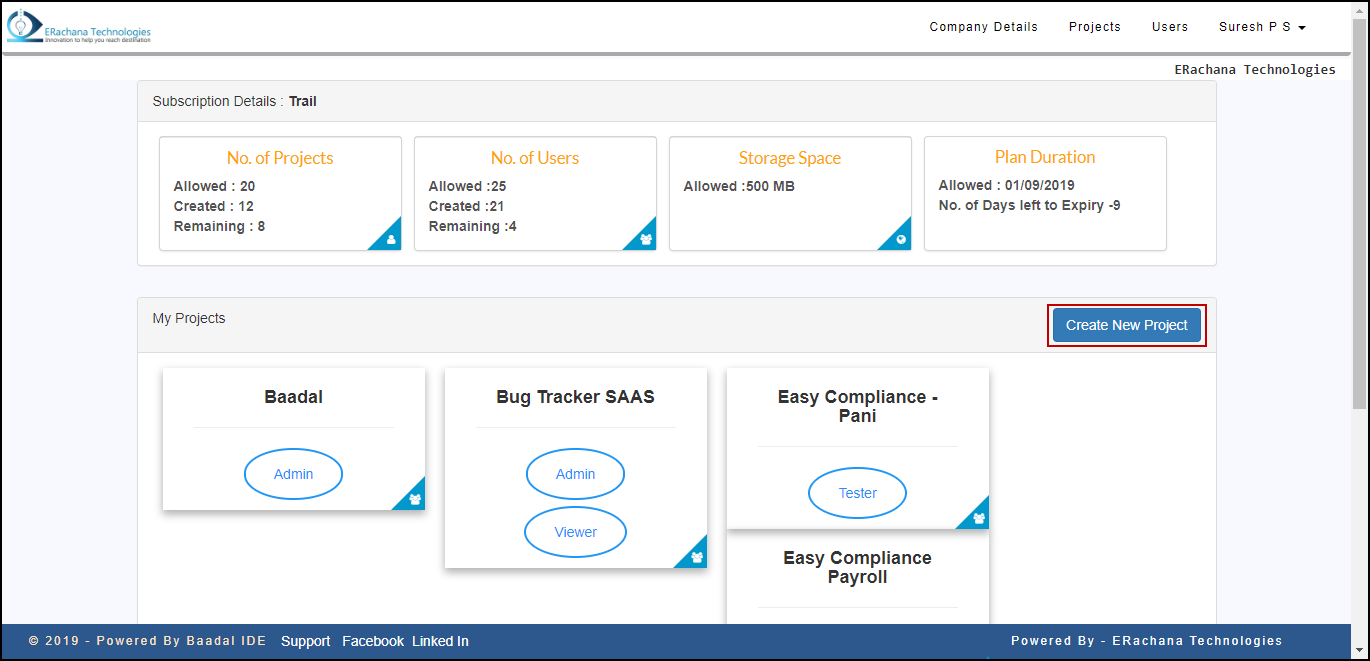 On click of Create New Project, a small screen pops up, fill in the Project Name and click on Create button. Respective Project will be created.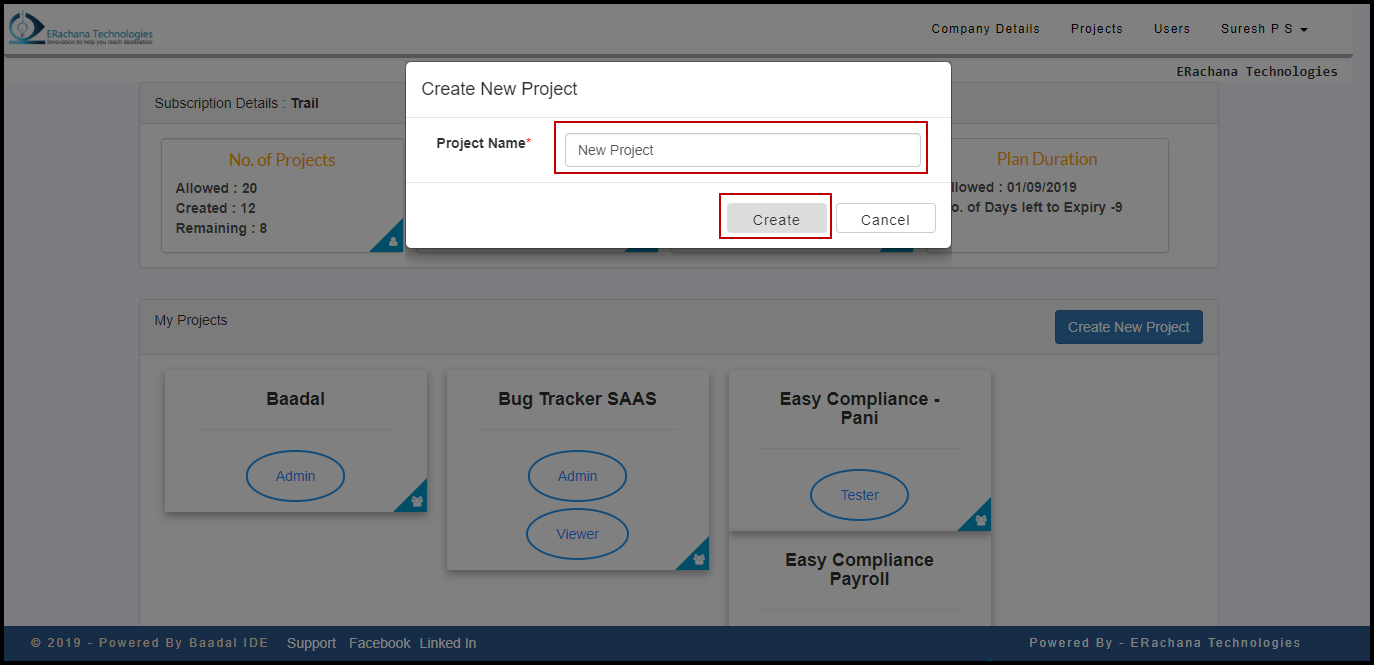 Few actions are available for created projects.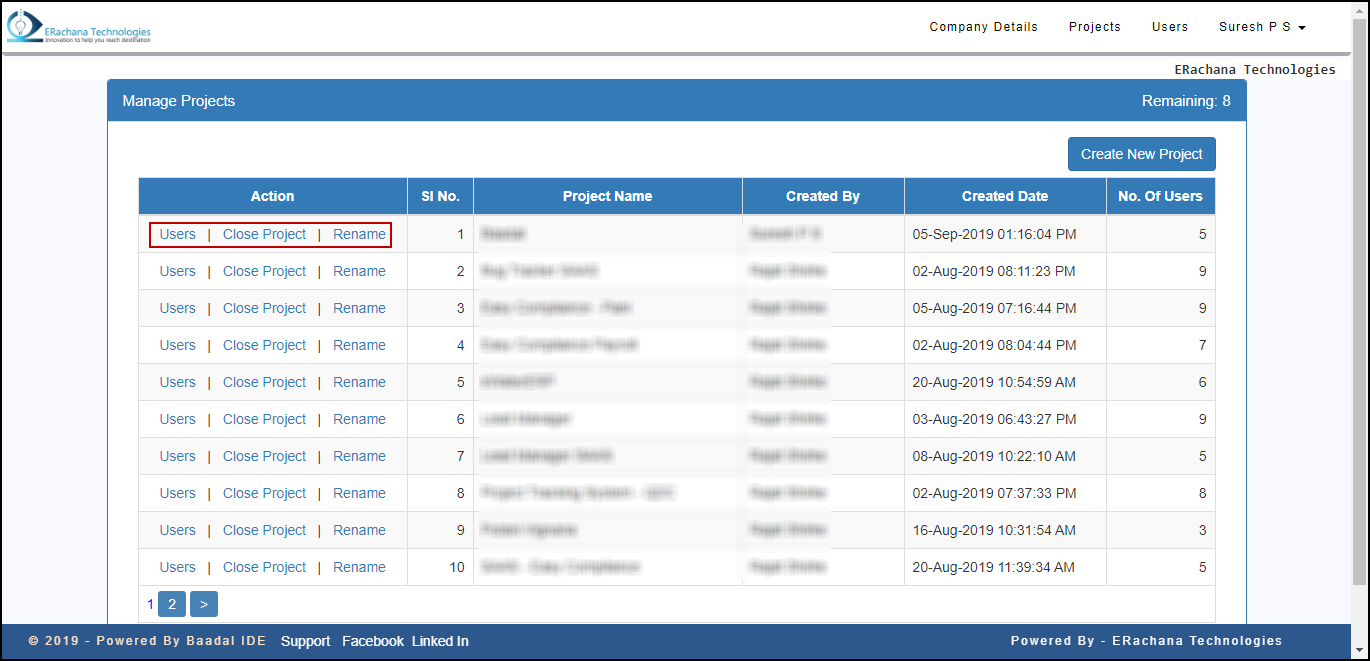 Users, Close Project, Rename. Users(Team members) can be added to the Project.
Step 7: Add Users to the Project
Click on
Users
to add users to the Project as shown below. Select the
User name
from the dropdown, check the checkbox of
Admin
if he is an Admin in this project, check the checkbox of
Active
if he is Active in this project. Roles will be displayed in the grid such as
Developer
,
Tester
, and
Viewer.
The following privileges are provided in the application,
View: Users with these privileges can only view screens.
Save: Users with these privileges can only view and Save data on the screens.
Delete: Users with these privileges can only view, Save and Delete data on the screens.
Map respective privileges to the users in the project and click on the Save to save details.
Step 8: Subscription Details
Click on the Subscription Details in the menu ribbon to know the Subscription Details of the registered user.

Step 9: Plans
Click on the Plans in the menu ribbon to know the offered features in the application