Assign Leads
The Leads for whom Assigned To is set as Hold, those leads will be available in the Assign Leads screen that is opened. If Admin has uncertainty on whom to assign the lead, he may set it as Hold and later assign it to an Employee through Assign Leads screen.
Click on Assign Leads Submenu.
The Filters such as Country, State, Place, and Source are provided to sort out the data based on User Requirement.
Select any data in filter and Click on List.

To Assign the Lead, follow the below steps:
Step 1: Select the Lead by Checking the Select Checkbox.
Step 2: Click Assign.

Step 3: Select the Employee to whom you want to Assign the Lead to from To field. Step 4: Click Assign.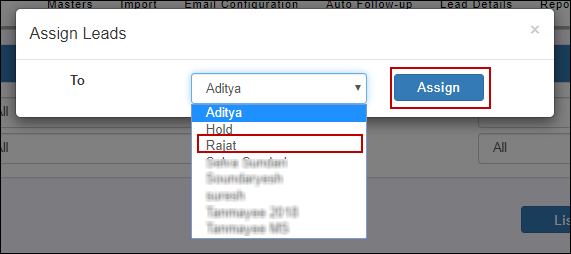 Step 5: Click OK.

The Confirmation Text appears to notify Successful Transfer of Lead.

The Assigned Lead will be available to the User/Employee when he logs in with the status as 'New'.