Email Configuration
In Email Configuration, following features are avaialble Server Configuration, Email Configuration and Email Template.
Step 1: Server Configuration
Simple Mail Transfer Protocol (SMTP) is the de facto standard for outgoing email transmissions across the Internet.
To set up a mail client it's necessary to configure an SMTP server that will take care of the delivery of your emails.
The Following Email Server Settings need to be configured -
Server Name: An informal name that you will decide to identify the server (best to use the email provider's name, like Gmail or Yahoo).
SMTP Port Number: Here, the port number of the outgoing SMTP port should be provided. When choosing a port, only secure port settings are recommended. Port 25 or Port 587 can be used.
SMTP Server: The actual host name of the outgoing SMTP server as per specification, such as smtp.gmail.com should be provided here.
Secure: SMTP email transfer doesn't provide an encryption. So, if you want to make your connection more secure, it's a good choice to use a STARTTLS or SSL/TLS extension, that employ a separate port for encrypted communication. Click Secured check box to make your connection secured.
No. of Emails per hour: In this mandatory field, enter the number of emails that will be sent in an hour, out of total emails to be sent.
For Instance, if Gmail is used: Enter the following details:
Server Name : Gmail
Server SMTP : smtp.gmail.com
Port Number : 587
SSL Status : True. Click Save.

SMTP Quota and No. of Emails per hour
You should limit the amount of outgoing mail from your servers, to fight Unsolicited Bulk Email (UBE) also known as SPAM. When the outgoing quota limit is exceeded, your server may be black/grey listed and added to blocklists, which in turns prevents email from being delivered on time. If your server is blacklisted, then, your message will be rejected by most ISPs like Yahoo or Gmail, in future, badly affecting your company's reputation and communication with your users. It is advisable to always keep an eye on your servers IP for safety. To prevent your email service from such issues, in ERachana' s Bulk Email Utility you can set a limit to number of emails that can be sent in an hour.
Step 2: Email Configuration
Select the Server, and enter EmailId, Password, and No. of Mails sent in an hour (as explained above). Enter the Signature if required.
Click Save.

Step 3: Email Template
Enter the Template Name, Subject and Content of the Email. Parameter is the term that is used to define the Variables that vary among each of the Emails to be sent. For Instance, Name of all the recipients differ, so when the Parameter Name is added in your mail, it will be automatically changed into the Recipient's name as stored in the Application. The Parameter Type contains the Parameters that are related to Lead Data and Signature.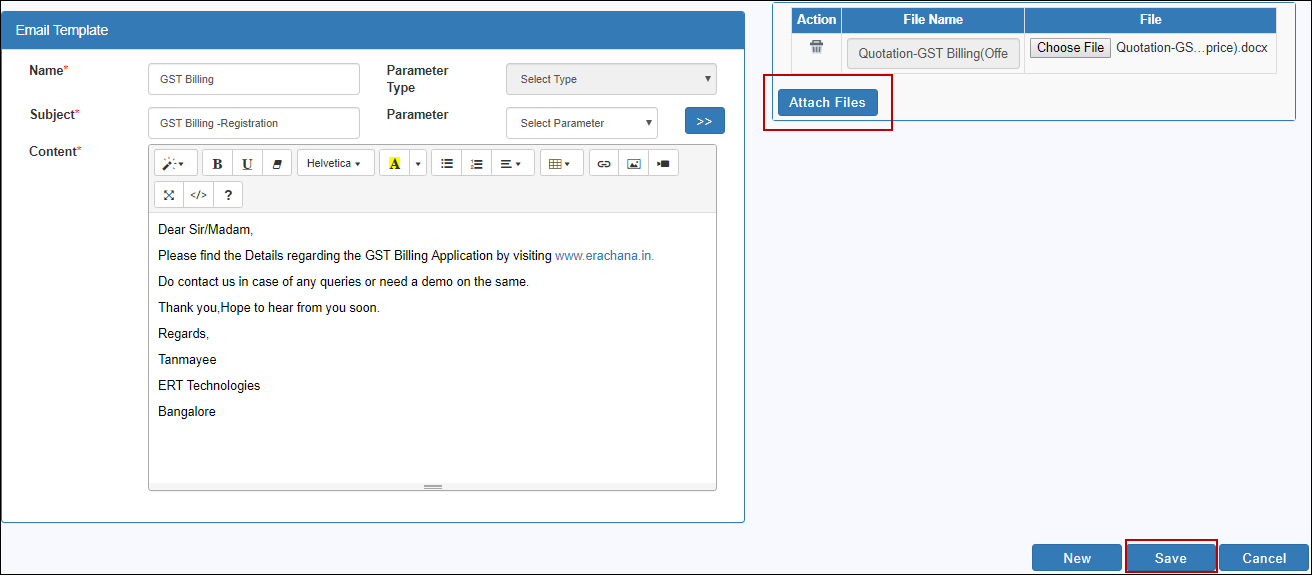 To attach any files or images, click on Attach Files. Chose the file from the system and Click Save.
This Email Template can be used in Email Campaigns.