Overview of help on User Management
In User Management, you can create users and assign permissions to them.

Enter the Name, Email Id, Phone No., Phone No.2, Designation.
Select one of the options while creating a new user.
Is Creator: To provide the user with the provision to Create new Users.
Is Buyer: To provide the user with the permission to purchase Subscription Plans.
Is Admin : To make the User Admin.
Note: A particular user can be made both User as well as the Admin so that he can act as both.

x
Role wise User Permission for Edit, Save and Delete can be enabled or disabled for the selected users. Click Save.
Check the required View, Save and Delete Checkboxes to provide the respective permission to the selected Users.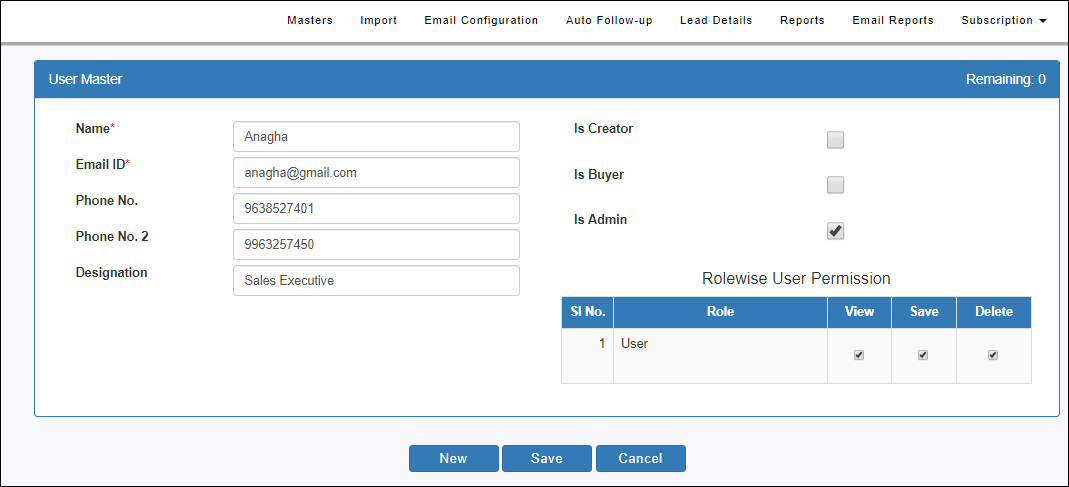 Activate /Deactivate User
An Email will be sent automatically to the Email Id of the user created with the Confirmation link and the Login Password. To check whether the User is active or Inactive, hover on the Icon shown below.
If the User has not yet clicked on the link, a message "User Email not confirmed will be displayed". User will not be able to login until he clicks on the link specified.

If the User is Active and you want to deactivate the user, Click on the same icon.

Delete User
Click on the Delete Icon to Delete the Active User.