Petty Cash Desktop Application - Help
Installation
The Petty Cash Application can be installed in the same way as any other standard windows application. Download, Install and Register the Petty Cash Application from our website www.erachana.in Installation & Registration are explained in Detail in other videos
Create a New file by Selecting New from File Menu. Once you create a new file, first you need to create Masters
Create Masters
Masters can be accessed from Masters Menu.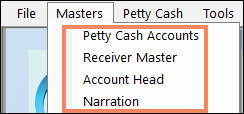 Create Petty Cash Accounts in Account Master
In Petty Cash Accounts, details of Various Petty Cash Accounts are stored.
To do this, in Masters menu, click Petty Cash Accounts. Enter the Account Name, Person who handles the account and Save the details.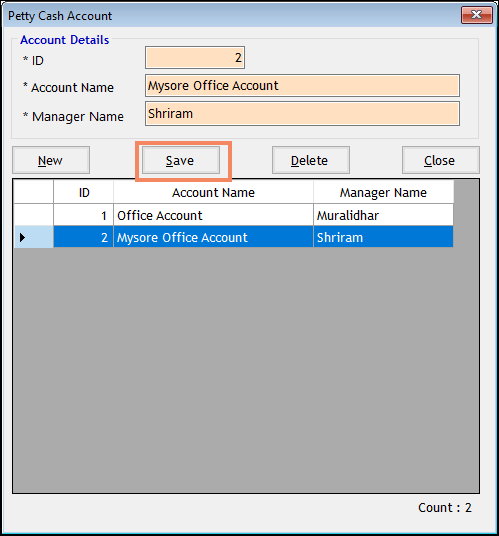 Create Account Heads
In Petty Cash, if expenses are managed under various Account Heads, it will be helpful to generate reports.
To add Account Heads, click Account Head in Masters and enter Account Head details.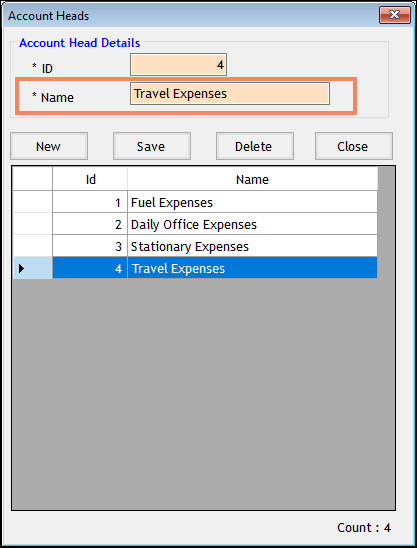 Create Regularly Used Narrations
Add Narration details by clicking Narration from Masters and enter narration Name.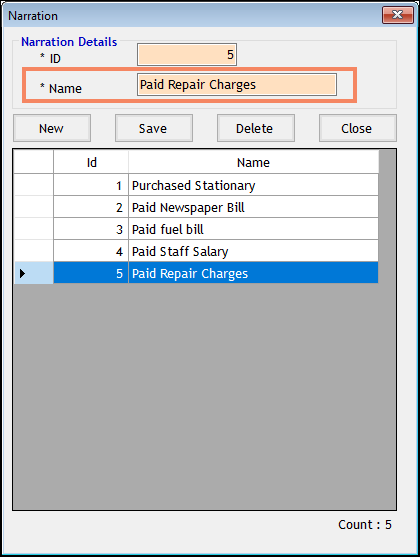 Create Receivers
Add Receivers' names by clicking on Receiver Master from Masters and enter the Receivers Name.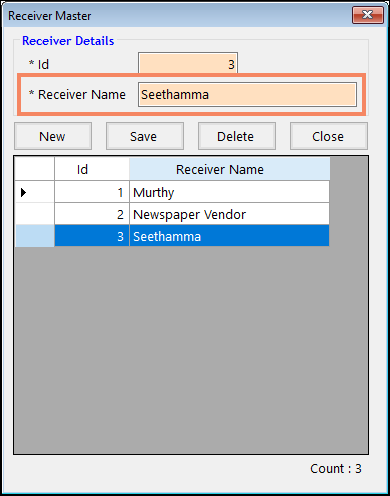 Manage Petty Cash
Petty Cash can be managed through the Petty Cash Menu.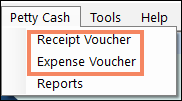 To manage a petty cash account. First Receipts should be entered and then Expenses are to be added.
Receipt Voucher
To update receipts of the amounts received for a given Petty Cash Account, click Receipt Voucher from Petty Cash menu and enter the details.
Select the Petty Cash Account, Enter Date , Amount and Remarks if any and click Save.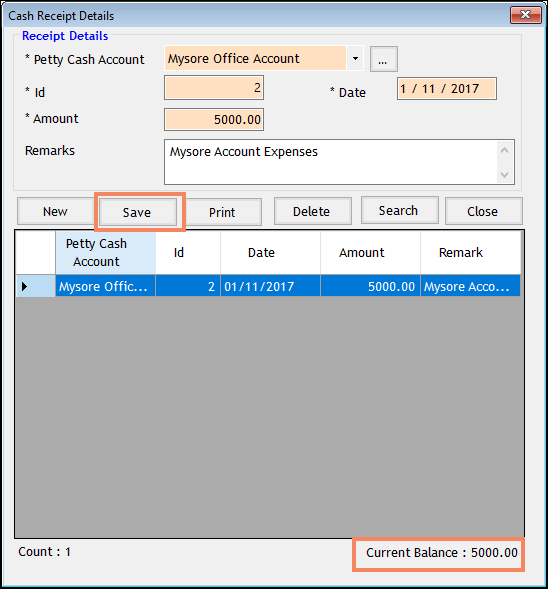 You can see the Current Balance of the selected Account in Current Balance.
You can prepare a Receipt Voucher by clicking on Print Button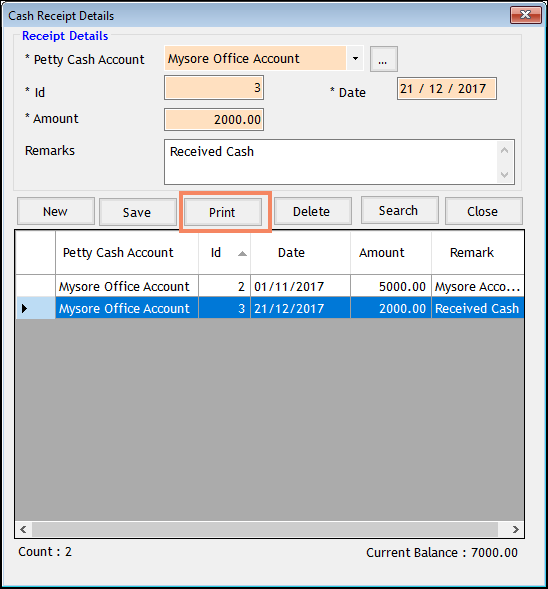 Expense Voucher
Create Expense details by clicking on Expense Voucher from Petty Cash menu and entering details-
Select Petty Cash Account, Date, Narration and Receiver.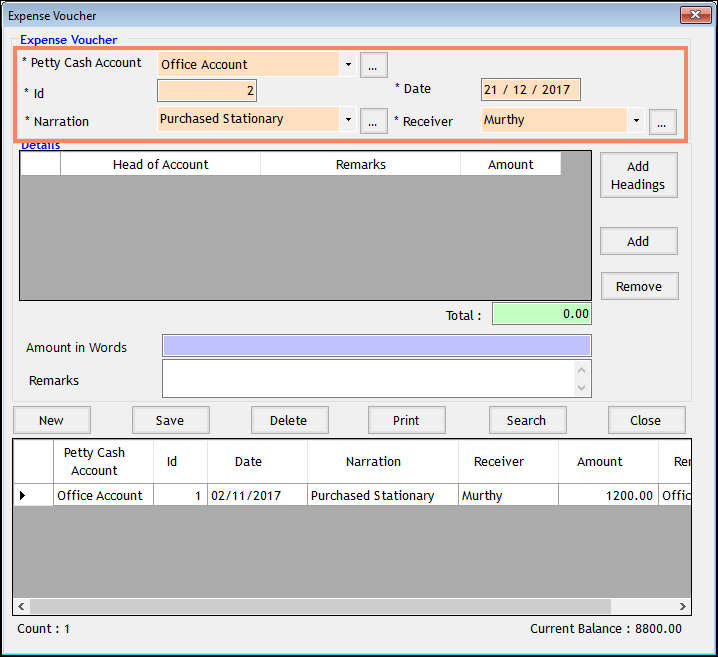 The details of the transaction can be recorded by clicking on Add in Details section. Select an item from Head Of Account drop down, enter an Amount, enter Remarks if necessary and then click Save.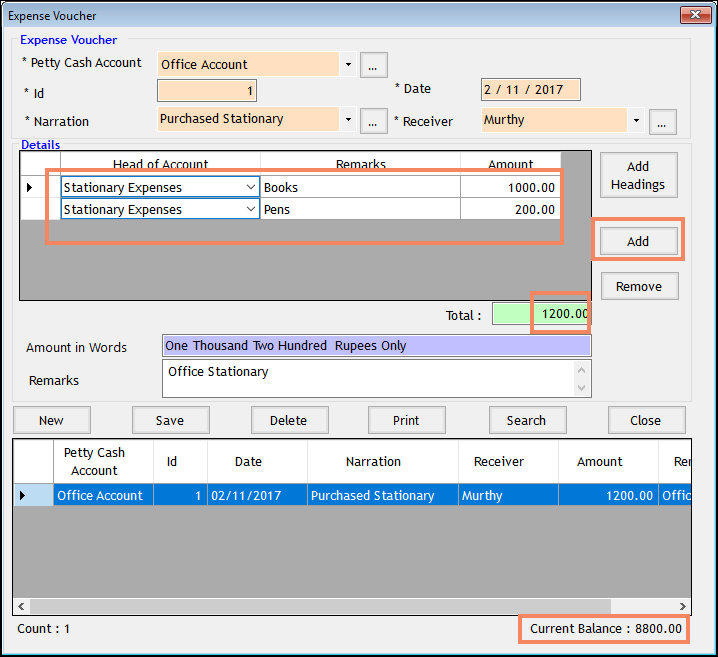 Once you save the Expense Voucher, Running Balance of the selected Petty Cash Account will get updated automatically.
To print the Expense Voucher, Click on Print.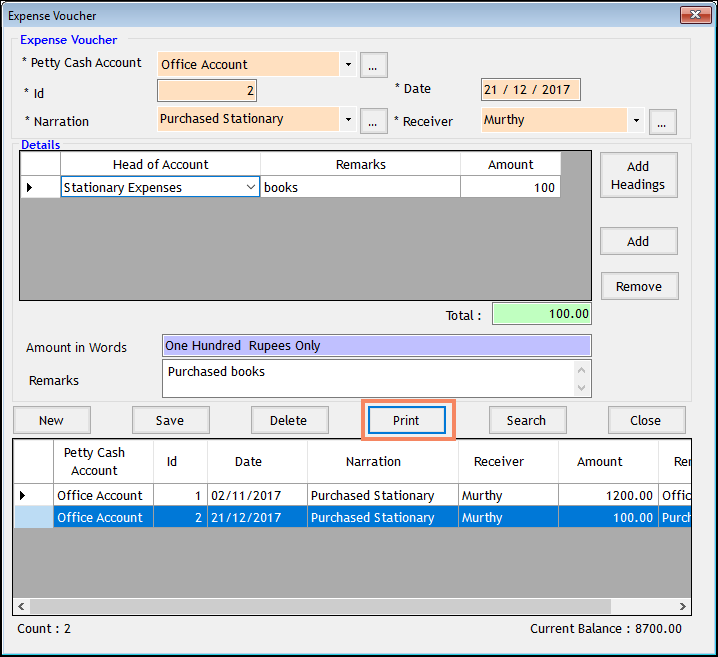 A Sample Voucher is shown below.
Note : We can customise Voucher as per your requirement, please do contact us





Generate Various Reports
To generate reports of the Cash Transactions, click Reports from Petty Cash menu.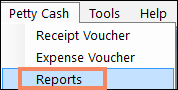 Another Window with options namely Running Balance Report, Heading-wise Report, Month-wise Report and Account Balance Report will appear.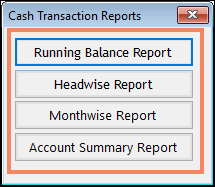 To see the Running Balance, click Running Balance Report and select a value from Petty Cash Account drop down and enter the dates. Click List to view the Running Balance and click Export to generate an editable Excel Report.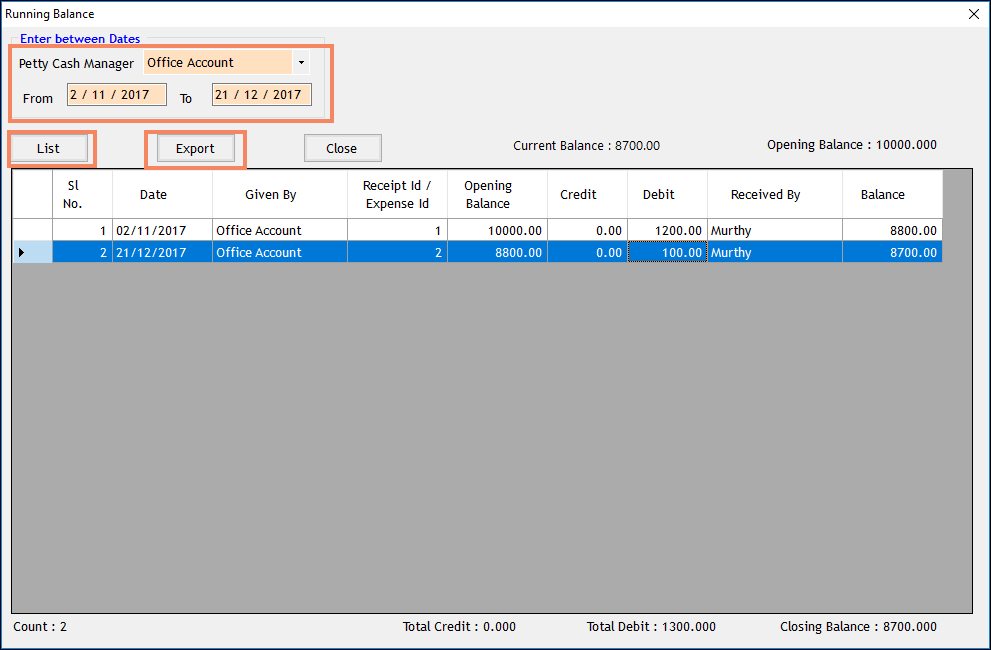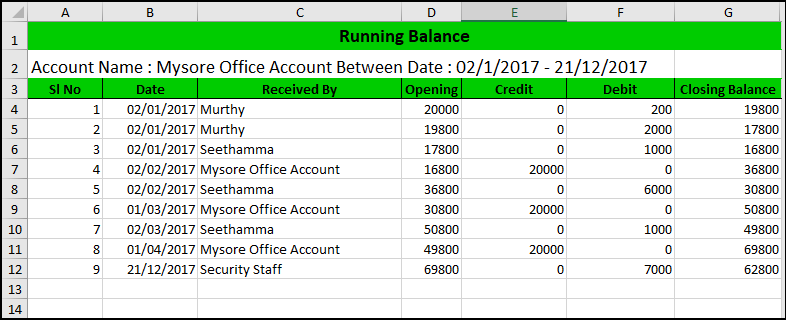 If you want Summary of all the Petty Cash Accounts, Click on Accounts Summary Report - A report gets Generated which will have details like Petty Cash Account Name, Total Receipts under that account, Total Expenditure and Current Balance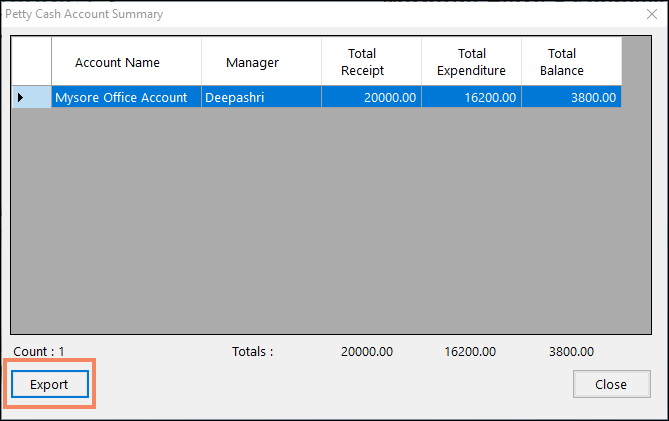 You can also generate Heading Wise Report - click Heading Wise Report from the Cash Transaction Reports and select a value from Petty Cash Account drop down. Enter the values of From and To dates and click Export.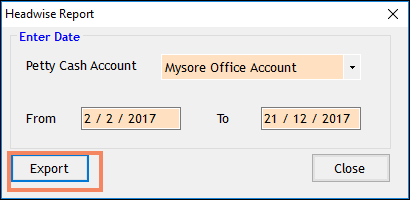 An excel report is generated with respective details.

To generate Month-Wise Petty Cash Expenditure for a Calendar Year or Financial Year Click on Month-Wise Report button, Select Calendar or Financial Year and select the year for which you want report and select one or more Heads of Accounts from the list and generate the report.